Hello Lumia Island survivors!
Eternal Return Master's Open #16 Solo matches ran for 4 days last week, from June 2nd to June 4th.
This tournament marks the end of Solo matches that count towards Circuit Points. All players gave it their all and showed us some amazing matches! Take a look at the results below for a recap of all the exciting action.
---
DAY 1: GROUP STAGE
OneCircle had the most points at the end of Day 1. He used his signature Nathapon and had 20 field kills on his own. In only six rounds, he cemented his place at the top of the leaderboard with 292 points.
In Round 1, Nathapon used the Mythic item "Arc Reactor" to compensate for his low mobility, and used its power to snag a kill. He chased for Beobeo's Emma in Cemetery, attacking with the Arc Reactor before hitting with F-Stop, showing a perfect combination of item and skill.
But it was NoDunAi who was able to catch the rampaging OneCircle. Using Magnus, he took advantage of his proximity to the temporary Safe Zone in Uptown, catching OneCircle and Lucete by surprise. With both off guard, he was able to intervene, kill them, and become the Last Survivor.
JCP with his craftsman-esque use of Fiora was one of the most memorable aspects of this tournament. In Round 9, despite a large difference in growth, he was able to dodge his opponent's skills, hit with his own, and flourish in battle. It was almost as if he was stating, "I'm the best Fiora here!"
---
DAY 2: WILDCARDS
Although these players failed to advance on Day 1, the Wildcard matches were anything but complacent. Curry, the winner of the last tournament, placed first in the Wildcards, followed closely by Beobeo and DINA.
Using Nadine, Curry showed safe and consistent gameplay, taking objectives and kills one by one. While taking down Wickeline in Round 1, Curry was taken by surprise by Gamjatang. But even casters were surprised when Curry managed to flip the table and defeat Gamjatang.
However, it was Beobeo who showed amazing play by stopping Nadine in the last Restricted Area. He calmly hit with all Emma's skills, forcing Curry's Nadine to bleed HP to be able to even approach her. Then, with a perfect combination of Hat Trick and Emma's Ultimate, Beobeo was able to widen the distance, take down Curry, and prove why he has such a high survival rate in the last Restricted Area.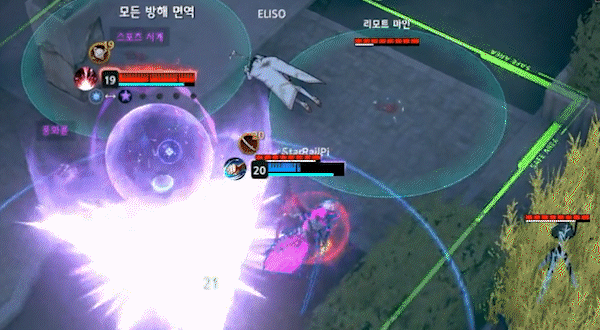 DINA's skilled use of Adina also showed a ton of awesome plays. Of course there was the early-game kill in Hospital, but his takedown of StarRailPi's Jackie in the last Restricted Area, rendering Jackie's skills unusable, was very textbook.
Haemyu, who proved himself in the last season finals as a dagger-wielding character master, showed off amazing plays as Cathy. He was able to avoid opponent skills by using the Dagger weapon skill at the right place, right time.
---
DAY 3: FINALS
In the finals, it was gwork who ended up taking the whole thing, once again proving why he's one of the strongest players. Although some fans were worried about his performance after the short break he took, he readily proved there was no need to worry.
Curry was able to get revenge for a Wildcard match in these finals as well! In Round 2, he once again met Beobeo's Emma in Hotel to duke it out in the last Restricted Area. However, this time was different—he was able to reduce Emma's HP first, hitting a bullseye in the Final Safe Zone and taking the match.
gwork used Laura and Adela to show off a spectacular performance. Facing off with Beobeo in the last Restricted Area, he was able to hook his opponent and easily put an end to the match, showing other players his terrifying hook hit rate.
Lucete showed off his wit, using Wild Animals to face off against Emma, which became one of the most memorable scenes. Taking advantage of the two bears in Dock, he was able to lure them into the Final Safe Zone, kick off their aggro, and prevent Emma from easily attacking. Now that's using the game to your full advantage!
---
This marks the end of this season's Master's Solo matches. Circuit Points have been fully confirmed and are as follows: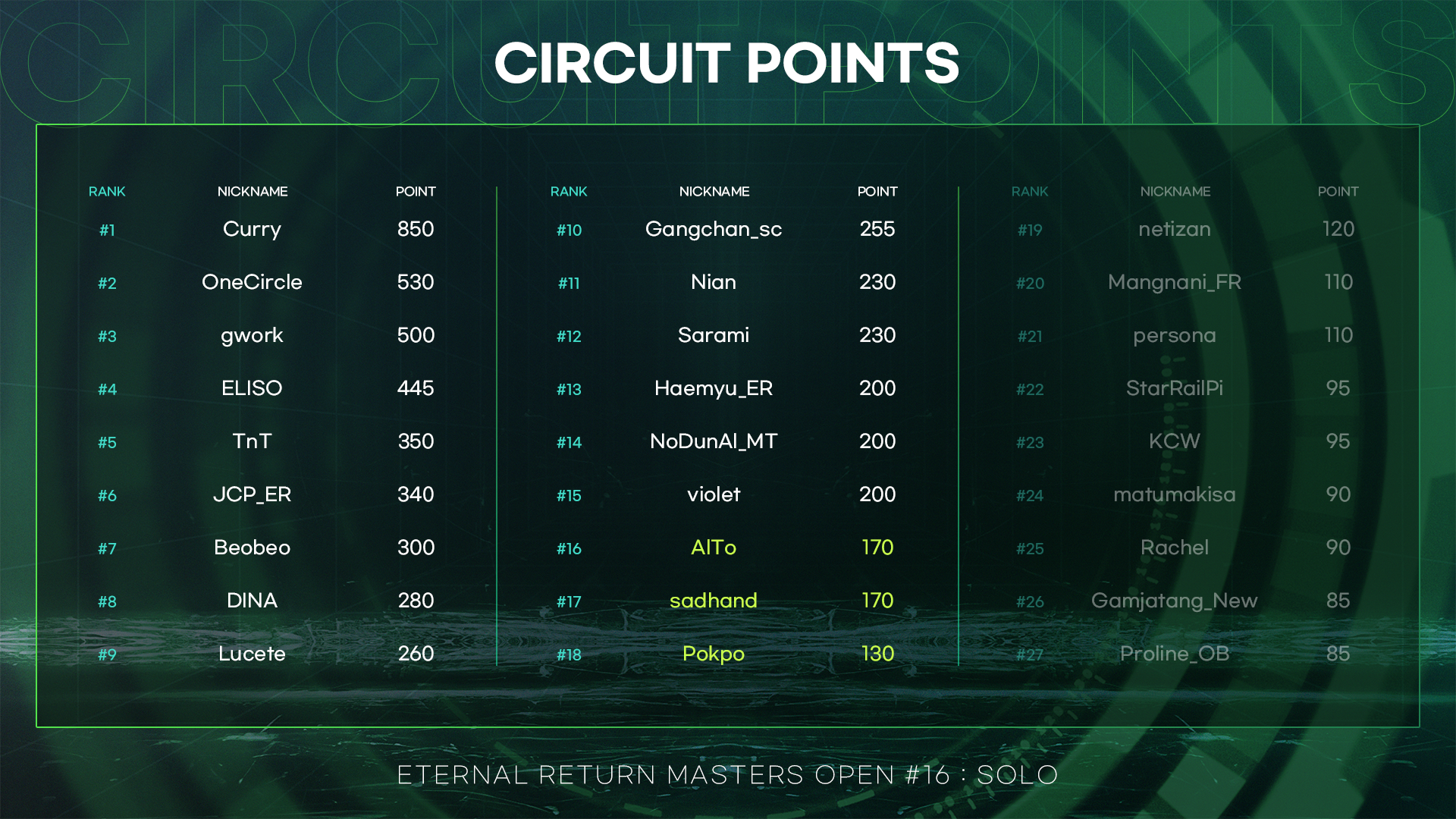 The Top 15 players of this season will go straight to Daejeon for the offline Season Finals. The last 3 will have a chance to duke it out in the Last Chance Qualifiers (LCQ) tournament to be seeded into 16th-18th place.
I'm sure you're all just as excited as we are to see the results of this nail-biting season!

Check out the image below for LCQ schedules.
The Master's Open #16 Solo showcased some of Eternal Return's top talent. The next tournament, Master's Open #17 Team, will take place over the following times and dates:
You can watch live broadcasts at the following links:
- Korean: https://www.twitch.tv/nimbleneuron
- Chinese (Simplified): http://live.bilibili.com/21456983
- Chinese (Traditional): https://www.twitch.tv/eternalreturn_tpe
- Japanese: https://www.twitch.tv/eternalreturn_jp
- English: https://www.twitch.tv/eternalreturngame
Thank you for your interest in Eternal Return esports, and we hope you continue to give lots of love and support to all our competitors!